Level 2 Knives (You Choose)
Description
PREREQ: MUST BE APPRENTICE II OR HIGHER You choose -- Kukri, Bowie, throwing, hunting, or camping style! High carbon steel. Oil quenched. Class size is limited to 3 students. Since it's not as well known as the Bowie, here is some info on the kukri: it is a knife that originated in Nepal, is known for its usefulness around the home as well as at war. The knife we will make is from high carbon steel. We bend and shape it, so the blade curves to the inside, and then we create a comfortable handle.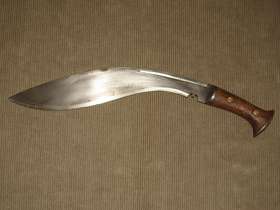 This class is reserved for Apprentice II or higher because a) we are working with high carbon steel which is more difficult to forge, b) it requires some techniques and hammer skill that are beyond level 1 skills, and 3) it is a weapon that requires maturity from each student in class. If you are interested in making this knife and are still Apprentice I, work hard to earn the Apprentice II level. This class spans two full days. Bring LOTS to drink and a lunch. We have water at the shop, but you may want to bring a water bottle to keep very hydrated.
2017-07-27 15:00:00 UTC
About Kilroy's Workshop, Inc
Blacksmithing, woodworking, and welding classes and camps for kids!
8250 Cessna Dr.
Unit 1
Falcon